Pasta with Creamy Broccoli Sauce
We have a surplus of broccoli at the moment thanks to all my broccoli plants being ready within the space of about 10 days so here is a tasty little pasta sauce using some home grown goodness.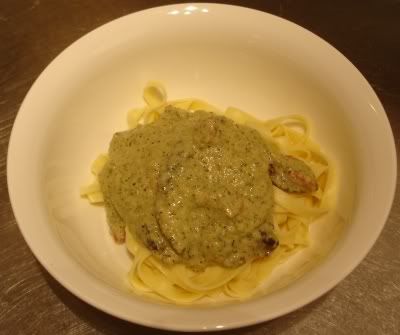 Pasta (we used fettucini for this one)
1 small onion finely diced
1 large head of broccoli, cut into florettes
1 tin of Carnation light evaporated milk
2 tablespoons of oil
4 rashers of bacon, chopped
4 large mushrooms, sliced
Salt & pepper
Heat 1 tablespoon of oil in a saucepan and gently cook the diced onion until soft.
Add light evaporated milk and bring to a simmer, cook stirring regularly until sauce thickens (about 30 minutes).
Place the broccoli in a separate pan and cover with water, boil and cook until the broccoli is falling apart (again around 30 minutes).
Meanwhile heat a tablespoon of oil in a frying pan and cook the chopped bacon until browned and set aside. Cook the mushrooms in the same pan and set aside. The bacon and mushroom will get added to the pasta sauce later.
Prepare the pasta as per packet instructions.
Drain the now very overcooked broccoli and add to the sauce (the onion and evaporated milk). Whizz with whiz-stick to blend the broccoli into the sauce. Add salt & pepper to taste and heat through. Add bacon and mushrooms.
Drain the pasta and serve in warm bowls, top with sauce and parmesan cheese.